Project-Nerd Publishing is proud to bring the brilliant property, That Bulletproof Kid, to Kickstarter in cooperation with creator Matt Kyme.
That's right… one of Project-Nerd's Wave 1 titles is now ready for you to pre-order.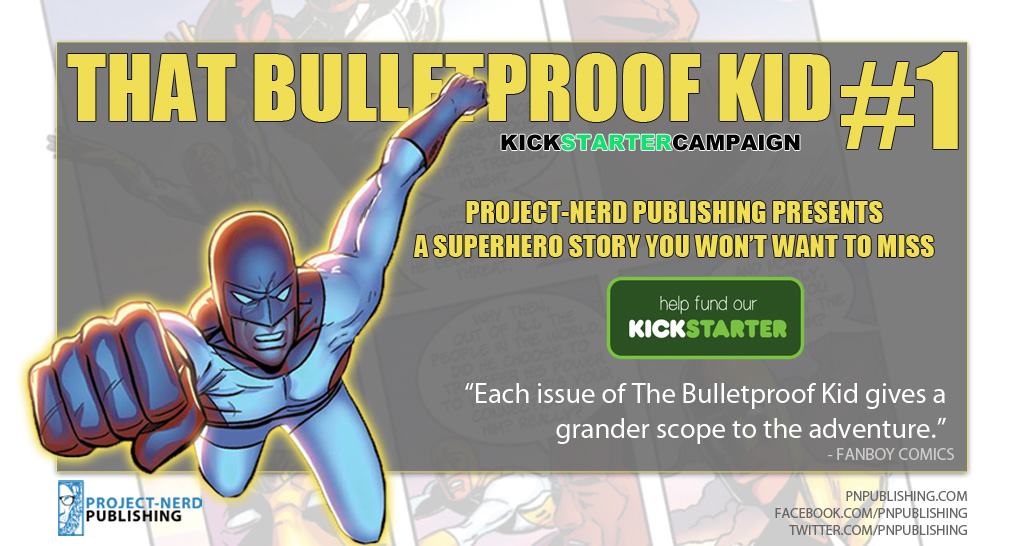 Anth always thought having superpowers would be wicked. When he got them he discovered being super isn't easy. Going to school, fitting in socially, and trying to figure out girls is hard enough as it is without the added pressure of having a secret identity. How are you supposed to get your homework done when you're always having to save the world?
Project-Nerd Publishing is introducing That Bulletproof Kid to North America through good new-fashioned crowdfunding. To generate interest, build revenue for the initial order, and to get things started, Kickstarter seemed like the obvious choice.
The campaign for That Bulletproof Kid #1 includes perks that range from $1 to $250 with fans able to get their hands on a digital copy of the That Bulletproof Kid #1 ($4), a physical copy of the That Bulletproof Kid #1 shipped ($7), prints (starting at $10), a t-shirt, and more.
You can find all the awesome perks for That Bulletproof Kid #1 on Kickstarter.